The company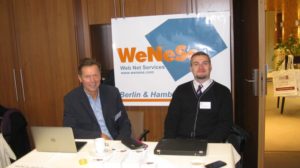 WeNeSe pronounced 'when-a-sea' [rhymes with Hennessey / Tennessee] is the acronym for Web Net Services, a European/Canadian IT company created in 2007 specializing in Multi-lingual SEO with offices in both Berlin-Germany and Vancouver-Canada. The company was formed by the IT department of a small independent apartment-hotel company.
This group successfully broke through the obscurantism and mysticism surrounding successful SEO listings to obtain good rankings in all the major languages and most international Search Engines. They chose to challenge the prevalent and widely held view that small independent companies could not play and win at an SEO undertaking.
From this humble success we made with OTA Apartments we decided to share this experience – the competence and know-how gained through these practical application strategies – and offer Multi-lingual SEO and other services to third parties in a stand-alone separate company… hence WeNeSe!
Who we are
WeNeSe has a full-time professional staff along with part-time interns and trainees who share both an international and also a local Berlin background.
Our company employs native speakers in German, Polish, Dutch, French, Czech, Swedish, Romanian, Chinese, Russian and English with offices in both Berlin and Hamburg and partner consultants in Vancouver Canada and other European cities.
WeNeSe took form in 2006 after the IT department of an independent Berlin Apartment Hotel decided to oppose directly challenge the obscurantism surrounding SEO and site promotion at this time. We decided to promote the company's website in English and German initially and slowly starting adding many other languages to reflect the customer base of the Apartment Hotel.
This greatly facilitate the direct booking process for the customers of this relatively small enterprise and helped bring the customer directly to the Apartment Hotel's website and away from all the third-party booking companies, who charge high fees for basically just parking their huge sites all over the web.
We have since then gained valuable experience in local and international marketing and obtained many customers from the tourism industry. Our key strength is in individual projects and local Search Engine Optimization for both B2B - commerce transactions between businesses – and B2C, or Business-to-Consumer.
WeNeSe has active partner/consultants in the following cities:
Berlin - Germany
Brno - Czech Republic
Bucharest - Romania
Den Haag - Netherlands
Dublin - Ireland
Goteborg - Sweden
Hamburg - Germany
Szczecin - Poland
Vancouver - Canada
Warsaw - Poland
The Colors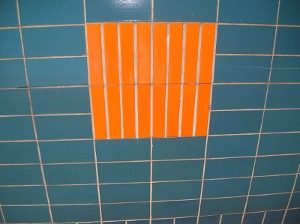 The colours of WeNeSe are Orange and Gray-Blue-Petrol. Orange commonly represents enthusiasm, avidity and flamboyance while Gray-Blue-Petrol invokes both modernity and industry. We arrived at this combination from seeing the ceramic tiles "occuring naturally" on a pool-side wall of the outdoor Prinzenbad swimming pool in Berlin. [see photo below].
Complementary colors are an important aspect of aesthetically pleasing art and graphic designs – which also applies to contrasting colors in company logos and retail displays.
The colour Gray-Blue-Petrol is often called or recognized as 'blue-green' but it is in fact a colour all its own – it is very similar to a combination of Azzur-Blue and Aqua-Marine hues, but without the 'brightness' that is inherent in blue. It is in fact a sort of greyish blue colour, tinted with green. Orange and Gray-Blue-Petrol are complementary colors, that is they are pairs of colors that are of "opposite" hue in color models.